Looking to add a thrill to your next outing? We're here to give you the ultimate experience with our Parasail Sky Surfer Adventure!
Hop aboard the 35-foot, Coast Guard-approved parasailing boat and sail to new heights. Be wowed by the aerial view of Orange Beach, Alabama as you soar hundreds of feet in the air.
Everyone is welcome aboard, making this a great family add-on for your next vacation. Children must be at least four to fly in the chute, but they can enjoy the cruise with the rest of the family.
Capt. John Mattis and Deckhand Flavio are there to make sure everyone is safe and making memories to last a lifetime. Those who choose to go up will be secured safely in their harnesses before sailing away to one of our amazing spots in the Gulf of Mexico. From pods of dolphins to sea turtles and more, you will get a new perspective on everything at the beach and beyond.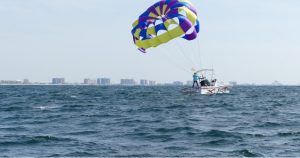 Multiple video and photo packages are available to choose from, so you won't have to worry about capturing the day's activities. Instead, up to 15 people can simply relax while in the boat and fully enjoy the experience.
Don't hesitate! Book your Parasail Sky Surfer Adventure today! You do not want to miss this breathtaking and unique experience.