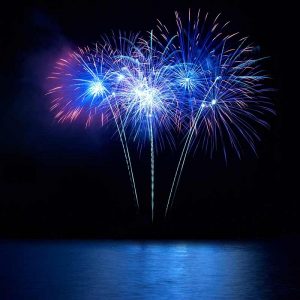 Celebrating the Fourth of July is one of the best parts of summer.
The day is filled with all the favorites of the season: beach, food, friends, and FIREWORKS.
Have you ever seen fireworks over the horizon? It's a scene that will make you never view inland fireworks the same.
Celebrate the holiday in a new light this year with a Fireworks Sail! The cruise sets sail at 8 p.m. on the 4th of July.
Relax as you float to the destination while enjoying light refreshments.
Feel free to bring a small cooler with beverages of choice or take advantage of the complimentary options on board.
This once-a-year occasion brings a 1.5-hour experience that includes, of course, a brilliant fireworks display.
Plan for this unique celebration the whole family will enjoy by booking your Fireworks Sail today!