Summer is almost here and that means it's time to make some plans for fun in the sun! If you and your family are heading to Gulf Shores or Orange Beach this summer, a cruise on the Wild Hearts catamaran will provide an adventure the whole family will love.
While there are many cruise options to choose from, the Family Adventure Sail is a must. On this enjoyable 2-hour nature cruise, you will experience catch-and-release fishing firsthand, spot many local birds such as sea gulls, pelicans and blue herons, and enjoy quality time with your family.
The adventure continues (based on sea conditions) with swimming and snorkeling in the beautiful waters of the Gulf of Mexico. Our knowledgeable captain always points out the unique marine life, adding education to an amazing experience that can only come from being on the water. Dolphins, blue crabs, a variety of fish and maybe even sea turtles are some of the local marine life you might spot.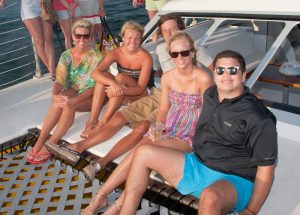 We offer a one-of-a-kind sailing experience. Our 53-foot, open-ocean catamaran offers it all, from our large deck and open cabin to two restrooms and an onboard bar. And our friendly crew makes sure you get the most from each of our cruises, including private sails, weddings and business ventures to at-capacity tours.
Life jackets and bottled water are provided for all of our guests at no charge, and sodas and snacks are available for purchase. Make your reservations today and we'll see you on the water!